By now if you've been following the project, you may have noticed that the part of the French Marquis is played by a woman– the inimitable Lisa Wolpe.  Among many things, Lisa is the artistic director of the Los Angeles Women's Shakespeare Company, and has made her mark locally by playing some of Shakespeare's most powerful men as if she were a man.  It all stems from a very studied technique in which she is able to embody the essence of the male persona.  I won't begin to describe her approach, my wife gave me an overview and I quickly knew it was out of my realm of comprehension.
I wanted to bring one aspect into Chesterton's narrative and themes that I felt he left out.  Each tyrant on the high council of anarchy, the Council of Days, represents an aspect of life in this world that strikes fear into the heart of the Christian everyman.  As I elaborated in the post about Dr. Bull and the Professor, a couple of these aspects include science, accidents of nature, unexplainable miracles, or even death itself.  The sword fight between the Marquis and Gabriel is very clearly his battle with the fear of death, or put more nobly: martyrdom.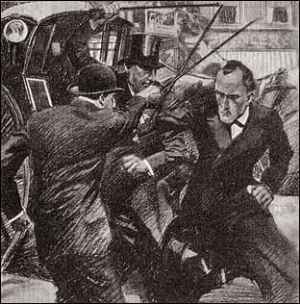 However, I saw an opportunity with the Marquis for another long-time fear of man.  The book describes the Frenchman as the only man who looks like he belongs in his fashionable clothes.  So I chose to explore our fear of femininity.  There are several aspects that play out in society.  Most obvious is when a man displays feminine qualities, whether that man is homosexual or not.  Also throughout history is men's fear of the strong woman, or the woman in power.  Many men, and even conservative women have problems with female leadership.  Then I would even go so far to say that some men and women fear female femininity in its natural state in women.  This evidences itself in different ways, such as the medical system's attempt to take birth out of the hands of women (an institution which historically has always been the sole domain of femininity).  Also society's angst and battles over feminine sexuality.
Now you might guess what tweaks I made to the story to fit this in there.  I didn't change any scenes or make much of a change to the lines of dialog, just a simple act of gender-bending that I won't specifically outline.  But remember what happens thematically to each of these "fears of man":  they turn out not to be the enemy, but an ally after all.
We had a lot of fun recording with Lisa.  Unfortunately, time didn't allow for everyone to get in a room together to do some of the bigger, explosive scenes that she is in, but even with having only her and Jacob Sidney as Gabriel in the room, we got some great stuff on tape.